Necronomicon by -Might-!
Introduction
I want to greeting everyone. This is my first guide here in DotA-Allstars forum, so pls be patient with me. In this guide, I try to explain how to use? When to use? And how to counter Necronomicon. I need your critics to develop and mend my guide, so pls feel free to post your opinion after this mini-guide. Thank you very much.
Table of contents
I. About Necronomicon.
II. How to use necronomicon?
III. Other important, strategic usage
IV. How to counter Necronomicon?
V. Some ending thought.
VI. Forums
VII. Replays
About Necronomicon
So let's start with some elementary information. You can find it in the lvl3 recipe shop. You need 2 items first, I highlight FIRST, before the recipe. There is not too much situation when you need to buy recipe first so pls buy the ingredients first. Depends on the game what item you buy first. If you need HP buy Belt of Giant Strength, for 450 gold. It increases your STR attributes with 6 points, that helps us to be not so fragile at the early game. After it, we need the second ingredient, the Staff Of wizardry for 1000 gold. It is not too difficult for us to farm that gold. Staff now helps us to farm more quickly because it lifts our maximum mana. And finally buy the Necronomicon recipe for 1300 gold. We spend 2750 gold for the lvl1 Necronomicon, and we have a very powerful item already.
,
====>
Features
Necronomicon is an upgradeable item as Dagon, but it has only 3 levels. The book can summon 2 minions at every level for 50 mana, they support us for 35 seconds with a 90sec cooldown. Its an archer and a warrior with increased attributes after every upgrades.
Necronomicon lvl1—6STR, 15INT
Necronomicon lvl2—10STR, 21INT
Necronomicon lvl3—14STR, 24INT
Special skill: Summon
This book has an active ability. You can summon two Necrominions with it. These minions attributes changes when you upgrade your book. Let's see: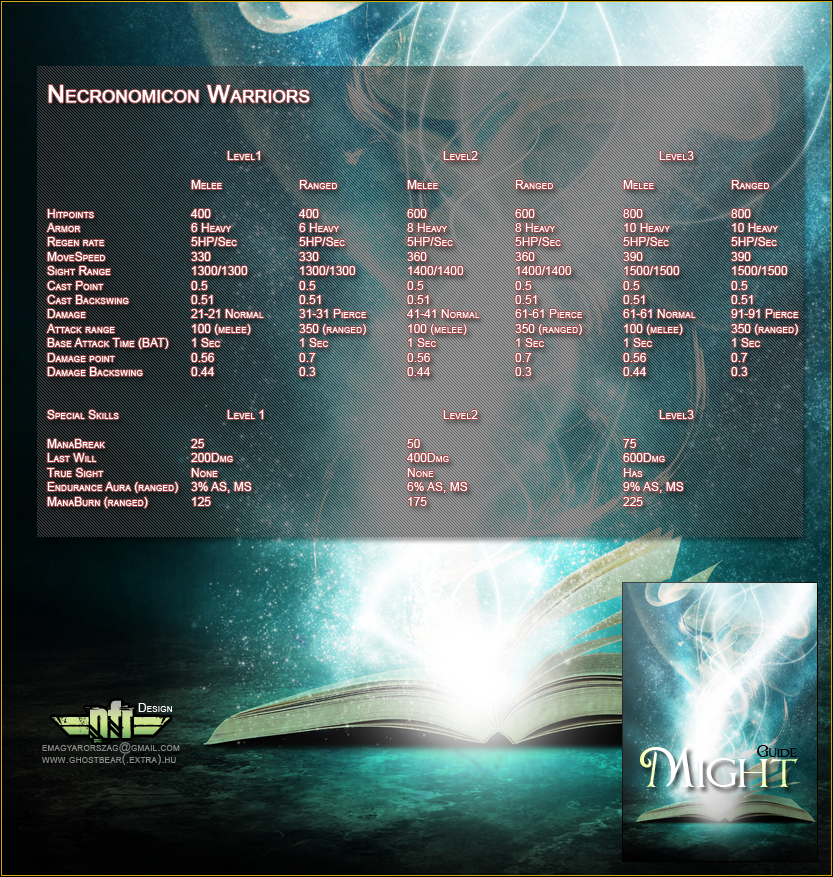 Now the Time to tell you that Necrominions can't attack Ancients, and Ancients ignore them.
Thx for the information aurasprw.
There is a little problem about Refresher and Necronomicon. Refresher refreshes the cooldown of Necronomicon BUT you can't control 4 necrominions. The first summons will die.
How to use Necronomicon?
Why can't we see this item in pub games?
Many people in pub games play alone, not in team, and can't use micro. You should play a lot and learn, how to control several units in the same time. But in the first time you should read
inDe_eD's Micro Guide
to learn, the base knowledge. In the next chapter I would like to write about one kind of the Microing, and this is the "Using multiple units".
Using multiple units
QUOTE(inDe_eD)
8. Using Multiple Units:

A few tips on controlling multiple units, including hotkeying and tabbing.

Controlling multiple units, although rare to DotA, does happen from time to time, so you'll want to know how to control them effectively.

If you want to select an individual unit from a group, click on its portrait in the status bar in the lower left.

You can use "Tab" to toggle between your active unit. First, you have to group all your units. Notice how your hero is the active unit, and that commanding him to use spells means he is the only one to react. If you "Tab" between units, you can use your units' other abilities without deselecting the entire group. Very useful for using the Necromicon's mana burn.

You can hotkey creeps for more convienent access to them. First, select the unit/group of units you want to assign to a key. Next, press CTRL + a number from 1-9. This group will now be hotkeyed, and can be reselected by simply pressing the number you chose.

Hotkeying a chicken is always a good idea. You can hit the hotkey, then click on the portrait to quickly centre on the base for item buying.

Note that heroes do not need to be hotkeyed, since their innate hotkey is F1.

As a rule, you do not want to feed creeps such as Necro'lic's revenants and Furion's treants, since they provide gold/experience to the enemy. Keep an eye on their HP and pull them back when they get weak. Or, you can always try denying them.
Disable
First of all talk about disable, what skills are disables? All kind of Stun, Hex and slow are disables. Furthermore all skills that increases the damage taken on your target are disables. (For example: Chen—Penitence, Pugna—Decrepify, Dirge—Plague. All kind of skills that disable you to move. Naga Siren—Ensnare, and Pit Lord—Pit of malice, If you obstruct somebody, to attack. I think about skills that generate miss chance: Mangix—Drunken Haze and Rikimaru—Smoke Screen. And finally many people don't know, that Doom is a disable too.
Watch that link for more information about the skill, Doom
Heroes who can use it effective
There are Three kinds of heroes, who gain more advantage from Necronomicon, than others. These categories are Channeling Disablers, Long-time Disablers and summoners. I will demonstrate all categories with one example, with a short comment and with a picture.
Channeling Disable
It is very difficult to use this item, need a lot of game experience to use all the advantages that Necronomicon adds to us. To learn everything start with the base things and the most simple example: when you have a long Channeling disable. During this spell, we won't manoeuvre with our hero, so we can easily control our Necrominions.
Some example for that kind of skills: Rhasta—Shackle, Enigma—Black Hole and Atropos—Fiend's Grip. During these spells we can focus all of our attention on Necrominions, so it is easier to micro with them.
Let's see what I'm talking about. It is a very really interesting situation. I tried to gank Pudge and Krobelus at the mid lane, but my teammates can't react in time, so it is a near 3v1 situation, because another hero spawn here too.
Long Time Disable
In the next period of microing, we have to control our hero, and the minions too. And we should use our Hero's skills, and the minion's skills too. (In some situation other summed unit's skills too. I will explain that below.) We need that disables, what can hold the target in the same location, or can slow them enough. There will be another three sections, and I will explain that's with pictures.
Stun
Maybe the strongest stun of DotA is
Rexxar's Primal roar
. Its guarantees 4 second stun and free way to our target. (And it has only 60 sec CD). So don't waste our time, let me show, how to do.
Here we can see a well-planed gank, using the true sight ability.
Hold in position
Not the Stun the only disable, that can hold your enemy in the same position for longer time. Lets see a hero with a huge AoE disable. This is the
Pit Lord, with the Pit Of Malice
. This 3 sec disable allows you to get your frag and help to your teammates. Lets see this too in pictures:
Teamwork and using special abilities in the right time is the most important thing in DotA. Here you can see a very well supporting Pit Lord with a high DPS Razor. The Mekansm and Necronomicon allows Razor to get 2 kills.
Slow
It's a really rare situation when you have to control three units, in DotA, and a really unique when you need to control six!!! This is the high-school of micro, need a lot of game experience and quick fingers. I will explain one of my favourite heroes, who has a heavy slow disable and lifts up the damage taken by your target. This is
Chen, the holy knight
.
Penitence
slows the enemy with 32% and increases damage taken by 28%.
And now we reached that section, when we should control 6 units at the same time. We have to use our hero's skills, Penitence, Test Of Faith and Hand Of God, we should use mana burn with the minion, and our Centaur's stomp ability. Witch needs lots of in-game and control experience. Know I would like to show you how I use these creatures, but first Read
MrX's creep guide
to learn more about Neutral creeps.
Summoners, alias Zoo
Some heroes has the ability to summon several creatures, what creatures hasn't got any skills, but good for push a lane. I would like to write three example (again). Furion, Dirge and Warlock.
Furion
I mean, Necronomicon is not the best item for Furion, but optional. You can summon a horde of treants and two extra unit with a strong aura, supports your treants. Not a last opinion when you sprout the enemy, the mana burn, end the 9% AS is very effective. If you like microing it's not a stupid thing to make Necronomicon for Furion. Stop talking about it. Watch, and learn.
Dirge
It's a tremendously massive, and good farming hero. He can summon zombies to fight for him. With these zombies he is a good farmer and tower destroyer. These Zombies with extra AS and MS are just good for us, and the extra units is in great synergy with Soul Rip.
I advise Necronomicon for both heroes as an optional item, when you bored all item builds and like microing. These two good farming hero can got this book easily.
Warlock
He has a really very strong summon: the Infernal with high HP pool and a heavy damage, with pulverize. Warlock has only a channelling slow, has no skills that hold your enemy in the same position, so you and your infernal needs the extra MS, and when you want to destroy a tower, the extra AS is effective too.
Here's what i'm talking about
To sum up: Necronomicon is good for all summoners.
Some other heroes
Silencer
QUOTE(DeathMusician @ Oct 15 2007, 10:01 PM)

Other than your categories of who can use Necronomicon effectively, there is one other hero who does well with it: Silencer. Have you seen league players rushing Necronomicon on Silencer and being a monster? Well, I have.

Nerubian Assassine
QUOTE(Tucker)
Necronomicon gives NA everything he needs in terms of stats. The INT and STR bonuses get greater per level along with better Summons. The summons give you damage, MS bonus, another Nuke and level 3 has true sight allowing you to clear out sentry wards. This is for an "All-round" NA due to the versatility the item gives, survivability, Mana and an extra nuke.

I would recommend getting Necronomicon in most situations, if you are able to competently manage the two summons. It's also beneficial in games where your opponents are intent on trying to keep areas perma-sentried, allowing you to wipe the wards out.
Omniknight
QUOTE(Beast_Pete and Disrup3)
Necronomicon - a really great item on this hero. He was meant to hold this book in his hands. The MS aura that one of the demons give will allow you to chase more efficiently, the mana burn gives you a high boost on damage as you will not be attacking too frequently. The attribute bonuses are both needed, a little STR and a nice amount of INT. Especially if noone else is heading for this item you are to be getting it as a Necronomicon 3 will allow you to destroy wards, detect mines and invisible heroes.
Other important, strategic usage
Scouting
QUOTE("Blaow")
Using the minions to sweep for enemy wards
There is no problem if your necrominons die, if they save you. If you use this mobs to explore the fog, you can avoid many awkward scene. You can explore wards, top of hills, roshan and the woods of your opponent, to get infomration about the enemy.
Necronomicon is a good counter against goblin, cuz you can explore the mine-s before he arms it and you can get ready for any other invisible surprises.
If in your team, there is an invisible hero, you can destroy the sentry wards, to protect your teammate, or you can explore the popular locations of a observer wards to make disapear these.
Effective usage of Mana Burn
Yes, you can use this skill to damage your enemy, but this spell has several more way to use. It is important to use mana burn well. Castin a 225 mana burn on a high mana pooled hero is less effective than casting it on a Str Caster, for example on ES, Sand King, Skeleton King and Beastmaster.
QUOTE("Blaow")
sending the minions after an enemy hero who needs a lot of mana for their combo (generally strength casters) before a fight in order to burn them.
This 225 mana will realy hurts these casters, and maybe it can give up these heroes, for an easy kill.
Other good targets are Blinkers, and wind walkers before lvl3 Necronomicon. In a huge battle, these heroes maybe need this 125, 175, 225 mana to escape with blink or ww.
Secondary usage of Necrominions
It is not a bad usage, just secondary in a game. If you need use it too but keep in mind, use your mind.
Neutral
You can use these minions to tank for you if you need it. It is easyer to farm bigger neutrals with these, and you won't lose life while you farm yourself up.
Pushing
When you push a lane, you damage the enemy creeps as you can. Necro minion hit the creeps too and add an extra 3-6-9% attack and movespeed, to higher your DPS and push faster.
How to counter Necronomicon?
First, if we want to guard against Necronomicon we must know the attributes of this item. After Gradenko's quotation, we already know it. Now we have to know how are they look like.
Let's start with the
melee
one. It has, the true sight ability, so try to avoid him, if you control an assassin hero. Be careful, if you fight with it, because it has a manabreak ability. If you wait for the ideal time to cast, your mana might run out before you cast. And finally it has, the Last Will ability, so if you kill that Necrominion you will take 200/400/600 damage, and that can easily kill you. Now you already know, that we must be careful with it. Don't fail to identify: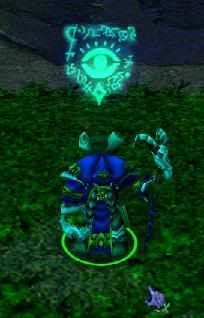 The other minion is the
archer
, with the mana burn, and speed aura. It is useful to kill it as soon as you can, because it won't damage you if you kill it, and you get 100 gold for it. And its aura and mana burn adds a huge advantage for its user and the user's team.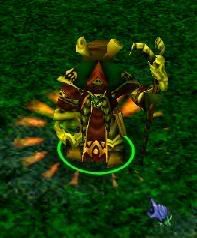 So thx to
Tfiws dna eliga's
advice I complete this section with some more information. Before we need some info how to guard against Necronomicon's power. This item can be really deadly when an experienced player control these minions. But like everything else in DotA has a Counter. We will use the fact, that these Necrominions are Summoned Units.
This is a half-counter to kill any minion, with one
Purge
,with a high levelled
Arcane Orb
Or with some hero who have huge instant cast, like
Lion
or
Lina
but they all takes the all damage from the Last will, so I advise only kill, the archer, and you stopped the aura.
You have, to know that nor the magic resist, nor the armor can't reduce the damage taken from Last will So Don't use Hood, or Any armor against these.
The one and only, the best Item against these monsters is
Black King Bar
Why? Okay I tell you: This, one item negates
Mana burn
,
Mana Break
and most feared
Last Will
.
After these information I am sure, that this is the best counter against Necronomicon.
HoM, and dominate NecrominiosHand Of Midas:
Do
NOT
try to use Hand Of Midas on Necrominions, because they are summoned creeps, so you can't HoM them.
Helm Of Dominator:
You can't dominate creatures with Time Bar, like illusions. Necrominions have Time Bar too.
Chen's Holy Persuasion:
Chen can dominate almost the all of creatures, exeption: Heroes/Ancients/Magic immune characters. So He can control Necrominions.
Aiushtha's Enchant:
Almost the same as Holy Persuasion, but Enchanted creeps will die after 30 seconds.
Thanx for these useful information to Nekdolan.
Ending Thoughts
This is a very difficult item to use, I hope I could help many players, how to use this multi-faceted tool.
Don't forget, DotA is a teamgame. Necronomicon can support our teammates. If you have the chance and affinity please use it in pub games too. Maybe his will help you to reach the final win.
I am interested in the following critics: What thing should I complete with? What are you interested in that theme? And make my attention on all fault!
Thank you for reading my guide.
Forum
Some Versions ago, Necronomicon's Mana Burn was nerfed. THx to Kenjinsakura to tell me that fault, and thx to Bichon for giving me, the new values. Her they are:
QUOTE("Bichon")
I checked out the Mana Burn values for you.
Level 1 Necronomicon:
Mana Burn®: Burns 125 mana from target unit.
Level 2 Necronomicon:
Mana Burn®: Burns 175 mana from target unit.
Level 3 Necronomicon:
Mana Burn®: Burns 225 mana from target unit.
QUOTE("Blaow")
using the minions to sweep for enemy wards and sending the minions after an enemy hero who needs a lot of mana for their combo (generally strength casters) before a fight in order to burn them.
The guide has some new information thx to Blaow
QUOTE("aurasprw")
something you might wanna note, necro warriors can't do attack Ancients and the Ancients ignore them.
Yep, this is a useful information, u can't use minions, to tank any golem, or roshan. Thx aurasprw.
Replay
I Play as nc][-Might-!
FaP vs
NC
REPLAY PARSEL LINK
[attachmentid=50776]
[

Clan FaP - Sentinel

]
FaP.RaptorJesus
TOP
FaP.m0ngEr
TOP
FaP.PedoBear
MID
FaP.Covercat
BOT
FaP.how.do.i.ge
BOT
[

Clan NC - Scourge

]
fakenick
TOP
nc][-MighT-
TOP
.HybrydZ.
MID
PingvinMesTeR
BOT
nc][TruX.
BOT
Credits
Thx Gradenko for the information about the Minions values, and Bichon for the newer nerfed Mana Burn Values.
Thx to Blaow for minding me, that Necrominions can be scouts for you.
Special Thanks to Beast_Pete, Blaow, Ironfisto, Gradenko, Bichon and all the forumers of my home forum, who posted here.
I'm Eminently grateful to
c00l. NFR
for doing these Amazing pictures!!!!
Edited by -Might-, 04 October 2008 - 02:09 AM.